I'm Heather, an experienced digital marketing leader in Nashville, TN. I have a decade of experience leading multi-touch digital marketing campaigns for the technology, healthcare, energy, recruiting and non-profit industries. I've spent my career in inbound marketing attracting, qualifying and nurturing new leads into customers. I have experience with a variety of marketing tools, tactics and approaches across small and large marketing / sales teams.

With a passion for digital innovation and operations, I provide clients with a blend of strategic thinking and execution. From digital advertising and social media to SEO and content marketing, I leverage an arsenal of marketing tactics to help clients reach their most ambitious business goals. I bring new ideas to the table that help streamline business processes and bring order to the chaos.
Ready to see how I can help your business? Keep scrolling to get a quick overview of my experience or take a look at my resume below.
MY
WORK
Over my career, I've been fortunate to do what I'm best at all while adding a wide range of skills to my professional toolbelt. I've worked with small and large marketing teams, both local and remote, allowing me to gain experience with various marketing tactics, software, personalities and communication styles. Check out some of the programs I've worked with and browse my core competencies below.
Email marketing is a science. Bringing contacts the right information at the right time and at the right frequency is challenging enough. Making sure your emails pull prospect down the sales funnel is another challenge entirely.
​
I'm looking to work on a team where aligning marketing efforts to the buyer's journey is priority. I want to join a team that uses customer behavior and preferences data to create specific, targeted campaigns that move contacts closer to a sale.
EMAIL
MARKETING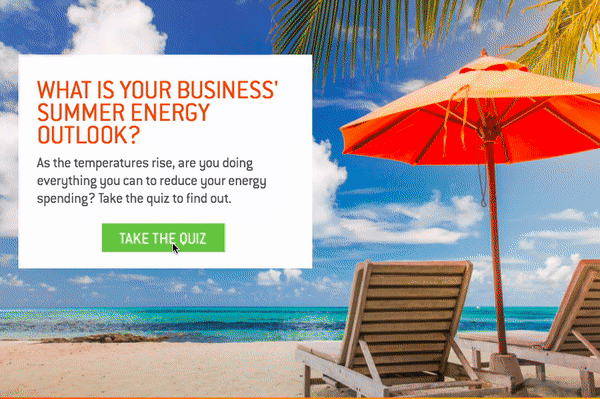 In a sea of content marketing, it's a never-ending battle not only to stand out, but to deliver results for your business. Interactive content is an effective way to entertain and engage your audience, creating a two-way dialogue that adds value for your prospects.
I led the first interactive content strategy at my company this year, heading up four interactive campaigns and the integration with our marketing automation platform. Our content stack includes assessments, quizzes and interactive video.
Using good SEO and website design best practices, I'm skilled at developing high-converting landing pages that draw visitors into the marketing funnel. I've helped lead two website redesigns, one for a 501(c)3 non-profit organization and another for a B2B engineering services company.
I also develop websites in my personal time, including the very website you're viewing now.
I am a skilled storyteller, copy editor, designer and link builder. It's my job to create written content that brings new visitors to our site, solidifies our brand and distinguishes us as an industry leader. To enhance the story visually, I also edit blog photos and design hero images.
No one can be an expert at everything. To fill these gaps in content, I frequently coordinate with subject matter specialists and freelancers to develop specialized technical content.
BLOGGING
I'm a paragraph. Click here to add your own text and edit me.
It's easy. Just click "Edit Text" or double click me to add your own content and make changes to the font.
VIDEO
People often retain more from video than from blocks of text. That's why I strive to ingrain video throughout my campaign strategy.
Videos are designed to tell a story. I work closely with videographers to develop an on-brand, on-message scripts, storyboard the project and coordinate on-air talent. I can also perform simple video edits and effects in absence of the videographer.
SOCIAL
MEDIA
I'm a paragraph. Click here to add your own text and edit me.
It's easy. Just click "Edit Text" or double click me to add your own content and make changes to the font.
SOCIAL MEDIA &
PPC
Social media is often the first interaction potential customers have with your brand. It's my job to make sure that first impression is a positive one.
​
Whether its curating the best content across the web, creating social media-optimized graphics or determining the best hashtags for our message, I understand how to promote brand awareness across multiple social media platforms. I also work alongside PPC consultants and product specialists to constantly refine our keyword strategy.
GRAPHIC
DESIGN
I may not be a graphic designer by trade, but it's something I truly enjoy doing when given the opportunity. I've developed graphics for a number of event registration pages, social media posts, marketing emails and blogs. Moving forward, I hope to increase my proficiency in Photoshop and other Adobe products.
PUBLIC RELATIONS &
COPYWRITING
As former spokesperson for a local non-profit, I have a deep understanding of media relations. I was regularly interviewed by local broadcast affiliates, staying poised and on-message with even the most controversial topics. I spent extensive time writing press releases and working with print media to gain media placement. I had a regular slot in AAA of East Tennessee's bimonthly magazine and other regional publications.
In addtion to earned media, I've worked on numerous paid media campaigns, pitching ideas and developing ad copy. Most recently, I have worked on native advertising placements to drive leads.
Heather and I have worked together on inbound and outbound marketing campaigns at TriMech. She is an extremely detail-oriented professional with a mastery of marketing automation and project management software. Heather is an asset to any business as she has the initiative to move projects forward on her own, as well as the capacity for teamwork on complex projects. She is a great communicator (written and verbal) and follows through with accurate information for coworkers who rely on her expertise. I thoroughly enjoy working with Heather and would readily accept any marketing challenge with her on my team.
​
Samantha Bild
Digital Marketing Specialist
TriMech
Heather was such a valuable asset to the TriMech Marketing team offering her Digital Marketing Skills again and again. She was always willing to pitch in on projects that might have been outside of her scope of responsibilities. She handled the pressure of an ever changing environment and accepted anything that I threw her way. Heather would be an asset to any company or marketing team.
​
Angie Droz
Director of Marketing
TriMech
Heather served in 2010 as a events marketing intern at Big Brothers Big Sisters of East Tennessee. Heather was one of the most (if not the most) mature and hard-working interns I managed in my nearly three years as Events & Media Relations Manager. Additionally, her skill in writing for web materials, print pieces, and marketing materials was beyond compare.

Heather wrote marketing profiles of 'matches' of Big Brothers and their Littles, maintained and created copy for the Bowl For Kids' Sake website, and designed promotional materials for agency events and marketing efforts.

Heather was less an intern and more a professional staff member at BBBSETN. She not only was a creative, intelligent, capable member of the communications department, she truly created a vibrant team spirit.

I miss her talent and her personality, and would hire her again in a heartbeat.
​
Brent Waugh
Former Events & Media Relations Manager
Big Brothers Big Sisters Of East Tennessee
Heather is an exceptional employee with a multitude of valuable skills which include: media relations, newsletter production, creative writing, developing promotional materials, grant writing, grant management, working with volunteers and businesses. Ms. Sutton is willing to tackle a challenge and is not intimidated by taking on unfamiliar tasks and taking the initiative to find the resources she needs to accomplish new tasks. She presents herself very well in a variety of settings and with different audiences from students to seniors as well as elected officials.

I thoroughly enjoy working with her and look forward to continuing to see her grow professionally. She is definitely a huge asset to the Metropolitan Drug Commission and is very committed to substance abuse prevention.
​
Karen Pershing
Executive Director
Metropolitan Drug Commission
Heather is an dedicated professional who is eager to learn, possessing the ability to juggle multiple projects concurrently. I first worked with Heather while she was an intern for the Metropolitan Drug Commission. As a student intern, Heather exhibited persistence and adaptability. She is also a skilled writer. Near the time of her graduation from college, the organization had a full-time position open and without hesitation, I recommended her for employment. Heather is a quick-learner and has a creative mind, both of which are assets that will be applicable as she continues to shape her career.
​
Stephanie Strutner
Former Project Director
Metropolitan Drug Commission
GET IN
TOUCH
Have a position available that could be a perfect fit?
Want to see more of my work samples?
I'd love to hear from you!